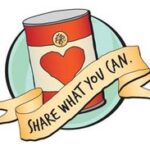 It's always a wonderful thing when the youth of our community step up to do good without being asked. In our community, Niwot Hight School Junior, Ellise Stager is doing just that.
Because of COVID-19, Ellise had more time on her hands than usual. When she found out that The Community Food Share is in need of food contributions, as a result of the global pandemic, she decided to launch a canned and non-perishable food drive in the Niwot community.
During the week of June 22-26, Ellise will be collecting food from Niwot neighborhoods. Below is a list the dates for each location from which she will be collecting donations. All you need to do is put some items in a paper bag. Ellise will pick them up. It doesn't get much easier than that. Make sure you have your items out by noon and visible from the street with this flyer attached for identification.
Day 1 (June 22nd)  Somerset, Springhill, Autumn Ridge, Monte Vista, Foxhaven, Legend Ridge, and Gold Branch
Day 2 (June 23rd) Morton Heights, Niwot Hills, Quiet Retreat, Waterford, Spring Creek Trail, Gold Nugget Drive, Niwot Hills, and Overbrook
Day 3 (June 24th) Old Town Niwot, 83rd St, Brittany Place, Niwot Meadow Farm, Timothy Place, Dry Creek Road, Burgundy Park, and Johnson Farm
Day 4 (June 25th) Cottonwood Park, Cottonwood Park West, Peppertree Estates, Countryside Drive, Country Creek, Centrebridge, Meadowlake Road, Monarch Road, Monarch Park, Niwot Estates, and Triple Crown Meadows
There will also be a collection box at the Niwot Market in Cottonwood Square until  noon on Friday, June 25th.
The NCA is proud to support Ellise Stager in her effort to help feed our friends and neighbors in need during these difficult times. We hope you will join us in supporting this important food drive. Thank you!
For a list of items that are needed and more details, see the food drive flyer.