Niwot Community Association &
Niwot Business Association
Invite You to Honor
Your Veteran
with a Veterans Day Banner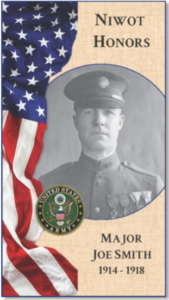 This is the fourth year the Niwot Community Association (NCA) and the Niwot Business Association (NBA) are co-sponsoring a Veterans Day Banner Project to honor veterans of the United States Armed Forces. The banners will be displayed in downtown Niwot during the weeks surrounding Veteran's Day.  On Sunday, November 6th, 2 – 4pm, there will be a celebration to honor veterans, the banners, and participants.
To sign up for the 2022 Veterans Banner Project, click here.
Contact veterans@niwot.org with any questions you may have.
Would you like to re-hang a previously purchased banner from years before? Click on the same link above.
The deadline for new submissions is September 15th.
Visit the NCA Booth at the Honey Bee Harvest Festival this Saturday, August 27th, from 10-4pm. See a sample!