Updated 2022-05-14 with rules, hints, map, and fee correction for LCD TV
Niwot Cleanup Day
May 21, 2022 8am to noon
Or until the dumpsters are full

Niwot High School
Free to NCA members
(see limits below)
This is a service that is provided to NCA members, therefore to avoid public dumping non-members will be charged $40 per trash load.
---
Objectives:
Residential Spring Cleanup
Divert trash from landfill
Rules:
Every person must sign a waiver, parents sign for minors
Do not line up before 8am
Approach Niwot High from the East to turn right into the main driveway (see map)
Paint collection will stop at 11am
Hints:
The wait times can be quite long during the first hour
Typically there is a lull around 9:30 – 10:00, consider coming then
Map:
Click here to view entrance, flow, and exit for Clean Up Day: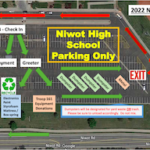 Map
We Accept:
Yard Waste
Scrap Metal
Water-based Paint
Styrofoam
Electronics **
Mattresses & Box-springs **
Trash
(** Extra fee required, see below)
We DO NOT accept:
Household Garbage
Cardboard, Glass, Aluminum Recycling
Please deposit in recycling bins on 79th St.
Refrigerators, air conditioners, freezers
Motorized Equipment with Gas or Oil
Construction Debris (e.g. dry wall)
Oil Based Paints
Solvents
Hazardous and/or Hard to Recycle Items
Animal Waste
Automobile Tires
Batteries
CFL/Fluorescent Tubes
Waste from businesses – e.g. contractor trash
---
Limits and additional fees:
NCA Members:
Two Free Trash Loads
1 Load = Standard sized pickup at bed level
Additional Trash Runs at $25 per load
Compare this to $48 to $85 what Western Disposal would charge.
Non-Members:
Additional Fees:
LCD TVs: $20 each
Tube TVs < 30″: $20 each
Small electronics: FREE
Box-spring or mattress; $15 each
---
Changes from Previous Years:
Swap Area Eliminated
In spite of our best intentions and efforts to provide a worthwhile way to recycle used, but reusable household items in years past, most of the items placed in the Swap Area get thrown away at the end of Clean Up Day. This year please contact Salvation Army, ARC, Humane Society or similar organizations to donate your reusable items. We will no longer have a Swap Area!
---
Support Girl Scout Troop 161
As you are cleaning out your garage/basement, please consider donating your
gently used camping equipment to the newly formed Girl Scout Troop 161.
They are in need of all gear: tents, sleeping bags, pads, stoves, cookware, packs … There will be a separate area at Clean Up Day for you to drop off any donations.
---
Seeking Volunteers!
Come help for a 2 hour shift
Numerous roles – can accommodate preferences/restrictions
Meet your neighbors
Bring a friend
Please contact us by emailing volunteer@niwot.org and/or visiting our volunteer page.