More than 20 years ago Patty and Don Strecker had children deployed for active military duty. To send them their love and appreciation while their kids were far from home serving their country, the Streckers  would send care packages.
Patty Strecker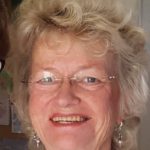 One day Patty was talking to her neighbor, Pat Murphy about the care packages they sent to their kids. Pat was moved by Patty's story and suggested the Niwot community could also send care packages because she knew of a mid-west town that mailed boxes to troops overseas.
Together they launched the Niwot Patriotic Cookie Moms project, baking cookies in Pat Murphy's kitchen. Twenty years later, Patty continues to organize the list of deployed troops and still sets up the meetings in Pat Murphy's kitchen. More than 20 volunteers come together five times a year to package and ship 30 + care packages to our troops.
Riki Frea stated:
"Patty is the heart and soul of the Niwot Patriotic Cookie Moms. Patty is not only devoted to leading this generous group of volunteers, but she is the most patriotic woman I have ever met! I can't think of a better way or time to recognize her efforts to support so many service men and women than on our country's birthday!"
Niwot Patriotic Cookie Moms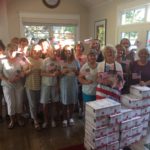 Look for the complete story in the June 26, 2019, edition of the Left Hand Valley Courier.