Niwot Community Association &
Niwot Business Association
are Sponsoring a Veterans Day Banner Project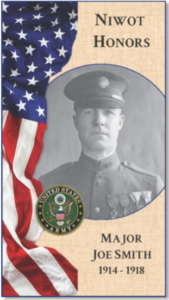 The Niwot Community Association (NCA) and the Niwot Business Association (NBA) are co-sponsoring a Veterans Day Banner Project to honor veterans of the United States Armed Forces. The banners will have a picture of the veteran, their branch of service, rank and years of service. Sponsors will pay a nominal fee to purchase a banner. The banners will be displayed in downtown Niwot during the weeks surrounding Veteran's Day. After the display period(s) ends the banner will be returned to the sponsor.
To qualify the following criteria must be met:
The honoree must be a current resident or business owner in Niwot or have a sponsoring family member reside or conduct business in Niwot.
Must be an active duty member of  the  Armed forces or a Veteran
Complete and qualify per the application
---
Here are the details
Honor your Veteran by purchasing a banner for display and online biography.

$100 buys a 24" x 42" banner displayed on 2nd Ave. in downtown Niwot during the weeks surrounding Veteran's Day.
$75 buys a 24" x 42" banner for personal use.
Either purchase includes a brief biography on NCA and NBA websites.
Banners ordered on a first come, first serve basis.  Lottery if demand is excessive.

After receipt of payment, we'll contact you about picture & bio of the Veteran. Please return form & payment to:

Link to download the form:  VeteranHandoutV3
Send payment to:
Niwot Community Association, PO Box 72, Niwot CO 80544
or
Pay online now via PayPal:

Purchase banner for display now: 

Contact us at veterans@niwot.org

Purchase banner only now:  $75.00


Pictures are preferred in a high quality digital format.

Contact veterans@niwot.org for any questions you may have.

August 01: Application and payment due
August 15: Photo and biography due
Approximate: Oct 15 to Nov 22 banners on display

Sponsor will need to supply:
Please note: This is our first year with this project. Some decisions will be made based on public interest and participation. We will do our best to accommodate everyone as fairly as possible.