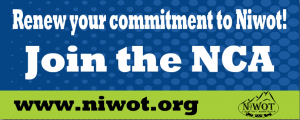 March is the month to renew your commitment to Niwot by renewing your membership to the Niwot Community Association.
The membership year runs from March-01 thru Feb-28 and costs $30.
Use this form to renew or join the NCA: 2014 NCA Annual Ballot & Membership Form
Building Influence Through Organization
The Niwot Community Association mission has always been about building community by providing a variety of family and community centered events, and being the bridge to the Niwot Business Association (NBA) and the Boulder County Commissioners. While we continue to embrace those ideals, the NCA has a renewed focus on creating a communication link between the NCA membership and the organizations that influence the direction of our town.
This year's elected NCA representatives are stepping up their commitment to create meaningful dialogue between Niwot residents, the NBA, the Niwot Local Improvement District, Niwot Historical Society, and Boulder County government. It is the NCA's intention to use new outreach methodologies to collect community opinion for what happens in, and to, Niwot, while protecting property rights and our town's fundamental ideals. We want to ensure that Niwot residents have an influential voice regarding issues and decisions that positively support or negatively dilute the unique identity of Niwot.
Please introduce yourself to your area representative (see below), and join the NCA. Be informed. Be heard. Add your voice to the opinion of what direction our community should take. Together we can make a difference.
What the NCA does:
Provides a communication link between Niwot and Boulder County
Organizes informational meetings
Sponsors annual Niwot Clean Up Day and Fourth of July Parade
Coordinates with Boulder County to maintain open space and trails
– Monarch open space
– Niwot Road at Sawtooth Drive underpass mural
– Niwot loop trail
Supports other community groups and their events:
– Niwot Business Association
– Niwot Cultural Arts Association
– Niwot Rotary Club
– Niwot High School
– Niwot Elementary School
– Lefthand Grange #9
– Boy Scout Troop 161
– Niwot Girl Scouts
– Niwot Nifties 4-H
– Niwot Prairie Productions
– Niwot Historical Society
– Mountain View FPD
– Niwot Chiefs Car Club
Membership Benefits:
An advocate for you on issues:
– Land use and traffic control
– Open space and trails planning
– Subdivision road paving
Quarterly updates:
Community issues
Upcoming meetings and forums
Surveys to gauge Niwot opinions
Annual cleanup day in May:
– Junk, metal, furniture, and household debris
– Yard waste
– Computers & electronics
Fun events:
– Fourth of July Parade
– Area social events, including ice cream socials
Find and contact your NCA area representative:
The members of the NCA board are: