2014 Events
Trails and Open Space Open House
---
NCA Annual Meeting
April 16, 2014 @ 7pm
Lefthand Grange
195 Second Ave, Niwot, CO 80544
Thanks to all that attended the 2014 NCA Annual Meeting!
Those in attendance were given an update of the NCA recent accomplishments and a preview of the goals for the upcoming year. Specifically, these topics were covered:
Expanded NCA service area and membership drive
Updated communications (web, email, surveys, …)
Subdivision road paving update
Restoration of the Niwot loop trail and the request to upgrade the Overbrook social trail (behind and access to Niwot High School)
Land use, permitting, and zoning subcommittee to address issues when dealing with Boulder County
Sustainability tax initiative from Boulder County
Upcoming events:
– Niwot Cleanup Day: May 10th 8am – 2pm
– Fourth of July parade
Election of NCA board members
Questions / Answers
NCA Service Areas Map: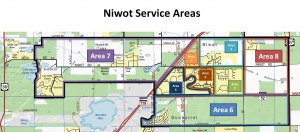 The 2014 election results have been verified and listed below.
Please Note:
– All positions are two year terms
– Half of the positions are voted on even years and the other half on odd years
– To view the complete NCA board, go to the Contacts page.
2014 Election Results
President: Dick Piland
Secretary: Kathy Koehler
Director at Large, Trails & Open Space: Heidi Storz
Director at Large: Liz Schmidt
Director at Large, Communication: David Limbach
Director at Large, Event Planning: Julie Breyer
Director at Large, Niwot LID, Business: Laura Skaggs
Area 2 Representative: Diane Zimmermann
Area 4 Representative: Linda Klueber
Area 7 Representative: David Manting
Representative at Large: Euvaldo Valdez
---
2014 Niwot Cleanup Day – May 10th 8am to 2pm
| | |
| --- | --- |
| What: | 2014 Niwot Cleanup Day, sponsored by the NCA |
| When: | May 10, 2014 8am to 2pm |
| Where: | Niwot High School |
| Cost: | FREE to NCA members, otherwise $40 per car load |
The 2014 NCA Clean Up Day was a huge success. Here is a summary:
• 155 households dropped off 306 loads
• 10 dumpsters of debris and yard waste
• 1 dumpster of scrap metal to recycle
• 3 industrial bags of 'block' Styrofoam to recycle
• 8 bins of electronics for recycling / disposal
• Paint gathered for recycling
• and many items were exchanged in the swap meet area
Car after car filed through relatively quickly thanks to the large number of volunteers:
(Send a note to media@niwot.org if we missed your name)
Bevan, Keelin
Breyer, Julie
Brigham, Mackenzie
Butler, Cindy
Buzas, Eli
Charley, Leigh
Eastman, Jim
Gross, Stan
Grunzweig, Ron
Halpin, Helen
Kirkenaer, Jo
Klatt, Becky
Klatt, Chris
Klatt, Sandi
Klatt, Fran
Knudtson, Gloria
Koehler, Kathy
LaFortune, Phil
Lackey, Sally
Lai, Ashley
Landry, Robyn
Lang, Mary
Lang, Robin
Lee, Cindy
Limbach, David
Manting, Dave
Mead, Vicki
Mecca, Kristen
Murphy, Pat
Piland, Dick
Pitel, Yesha
Schmidt, Liz
Seaborn, Judy
Slepicka, Jessie
Smith, Christopher
Storz, Heidi
Valdez, Euvaldo
Vogt, Eric
Yates, Rosemary
Zimmerman, BZ
Zimmerman, Diane
Zimmerman, Ingrid
Zimmerman, Thomas
Thanks to everyone who volunteered!
Photos (Click to enlarge):
---
Fourth of July Parade
The Niwot Community Association appreciates all the volunteers and organizations who helped to make the community 4th of July activities a success.
Volunteers:
Payton Albreats
Johnny Barrett
Mari Barrett
John Barto
Carolyn Bradley
Dana Breyer
Julie Breyer
Cindy Butler
Leigh Charley
Carol Crenshaw
Surinder Dayila
Sally Gainfort-Lackey
Justin Hirshfield
Michael Jacobson
Jim Jones
Becky Klatt
Chris Klatt
Frannie Klatt
Kathy Koehler
Gloria Knudtson
David Limbach
David Manting
Bruck McKay
Kristen Mecca
Pat Murphy
Chelsea Patterson
Dick Piland
Judy Seaborn
Bert Steele
Euvaldo Valdez
Erica Walters
Madie Weckerly
Kim Wilson
Bob Zimmermann
Diane Zimmermann
Organizations:
Abo's Lemonade Stand
Cottonwood Square Shopping Center
Flagstaff Academy gang (Niwot):
– Gabe, Jake, Sam, Nico, Carter, Eli & Alex
Flatirons Young Marines
Left Hand Animal Hospital
Left Hand Grange No. 9
Left Hand Highlanders Bagpipers
Left Hand Valley Courier
Mountain View Fire District
Niwot Boy Scout Troop 161
Niwot Business Association
Niwot Business LID
Niwot Chiefs Classic Car Club
Niwot High School:
– Band, Booster Club, Mascots, Cheerleaders, Football Team
Niwot Historical Society
Niwot Market
Niwot Nifties 4-H Club
Niwot Realty
Niwot Semi-Marching Free Grange Band
Photos (Click to enlarge):
---
Boulder County Commissioner Candidate Forum
October 15, 2014
There was an excellent turn out from the community to attend a candidate forum for the November Boulder County Commissioner district #3 election. A standing room only crowd got to listen to the candates, Kai Abelkis, Randy Laullin, and Cindy Domenico.