SATURDAY, JUNE 11, 2022
10:00am – 3:00pm
6675 N. 79th Street, Niwot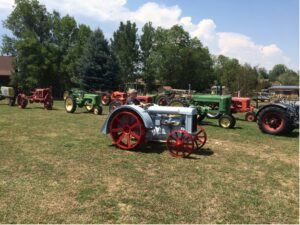 Have you ever wondered about the tractors that appear in the springtime at 6675 N. 79th Street? Why are they there? Find out why the Slepickas started collecting them. On this special day, you will have a chance to walk around, view, and talk about tractors.
In association with the Niwot Community Association, the Slepicka family will have all their tractors, hit and miss engines, and more on display for your enjoyment.
Parking
Street parking on N. 79th will be reserved for people with mobility issues.  Attendees are asked to park:
Country Creek Dr
Centerbridge Dr
Meadow Lake Dr
Cottonwood Plaza
---
Jerry & Marsha Slepicka – Natives of Boulder, CO
Vanessa (Slepicka) & Trenton Bailey (Located in Billings, MT)
Jessie & Jenna (Carlson) Slepicka (Located in State College, PA)
Brandon Slepicka (Located in Longmont, CO)
Jerry and Marsha bought the vacant lot in 1994. Together they built the garage and log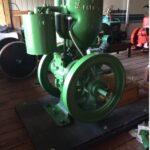 home. Every log was hand fitted exactly. They were required by Boulder County to keep the lot mowed. This resulted in our first tractor purchase, our 1946 John Deere B. Our second addition was a 1936 F-20 that Jerry bought during the auction of his grandparents' homestead in Ashland, Nebraska. Marsha's dad added the 1927 Fordson, a tractor he had on his homestead of Nauvoo, IL. The next tractor Marsha bought during the Boulder County Fair, while pregnant with the twins, Brandon & Jessie, a 1944 Alis Chalmers C.
More tractors were added over the years with the original end goal – sell them all to help the kids pay for college. That goal fell aside when the kids wanted to keep the tractors and won scholarships to pay for their college.
Brandon has taken over the weekly moving of the tractors. They are moved, the yard mowed, and then put back into a pattern. You will see the flying "V", fight club, even square dancing patterns. He's always open to new ideas.
In 2020, Brandon started collecting, restoring, and rebuilding Gibson tractors. The Gibson tractor company was located in North Longmont. He currently has 9 Gibson – all of which are considered garden tractors, although the company made full size also.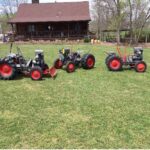 As of today, we have 15 full size tractors, 9 Gibson tractors, 17 hit and miss engines, and 12 small engines. The tractors are on display throughout the spring/summer in our front yard. In August, many are taken to the Dougherty Museum for the Yester Years Show. At the beginning of September, they are moved to the back and housed in our tractor sheds.
Why you ask?
As mentioned above, paying for college was the original goal. When that changed, we discovered that preserving these items provides a great teaching opportunity. Farmers who used these old tractors love to drop by and share childhood memories and stories of their past. Parents can show their children equipment that is no longer made and what it was used for. All the horse drawn equipment on display around the yard is from local homesteads around the Niwot area.
Niwot was primary made up of farms. Farming was the way of life. We believe that preserving and honoring this way of life is important. We appreciate that you took the time today to honor Niwot's heritage.
On display today are:
1946 John Deere B
1945 Purple Princess
1936 F-20
1936 Case CC
1945 Case SC
1939 John Deere H
1944 Allis Chalmers C
1941 Farmall A
1930 McCormick Dering 10-20
1936 Oliver 70
1927 Fordson F
1948 Farmall Cub
1952 Allis Chalmers WD
1936 John Deere GP Model A
1943 Farmall H